Line up of Comin & Goin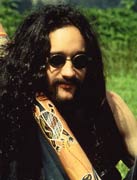 Alex Mayer - Didgeridoo

member of Comin & Goin since 1996
born in Innsbruck (Austria) in 1973 - has his roots in hip-hop and rap music and finds in playing the didgeridoo the perfect instrument to rap without words; in the meantime he is named in the same breath as Stephen Kent, Charlie McMahon, Ganga Giri and Mark Atkins
Recorded some Solo-CDs and played on many CD-productions.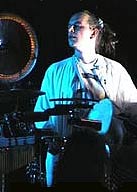 Bernhard Noriller - Tschanggo, Berimbau, Small Percussion

member of Comin & Goin since 1996
born in Lienz (Austria) in 1959 - starts his music career as a guitar-player and composer in the late seventies; in 1992 he gets to know Reinhard Flatischler and his innovative music pedagogic concept Taketina®, by whom he is trained in playing the changgo, a Korean drum, and the berimbau, an Afro-Brazilian music-bow. This is also an important influence for the meditative and spiritual effects of rhythm and composition.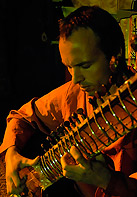 Klaus Falschlunger - Sitar

member of Comin & Goin since 1996
born in Innsbruck, Austria in 1969, Klaus Falschlunger spent three years studying under two masters of the sitar in Delhi and Benares, India; since 1995 he has continued his studies with the sitar and classical Indian music as a regular student of Daniel Bradley in Vienna; CDs with the Tibetan female singer Dechen Shak-Dagsay ("Dewa Che"), Manu Delago, Eurasia and Gerhard Fankhauser ("Seven Spheres"). Solo-CD "In A Sitar Way"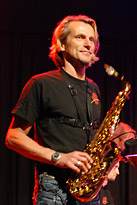 Stefan Fritz – Saxofon, EWI

member of Comin & Goin since 2010
born in Kufstein (Austria) in 1969 - starts to play flute with nine years, then learning clarinet, beginning with 15 years to devote himself to the saxophone; studies in jazz and popular music; exchange student at the University of New Orleans; cooperation with international, national and regional artists in the fields of classical, jazz, avant-garde, rock, pop and salsa; a variety of workshops and self-taught training in voice and sound are still his passion, he also perfected the sound of his instruments excessively and developed to their own style and brand; now active as a composer, arranger and producer in its own recording studio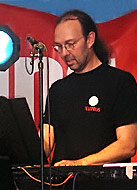 Andreas Heimerl - Keyboards

member of Comin & Goin since 2010
born in Cologne (Germany) in 1958 - piano studies at the Conservatory of Tyrol and church music training (organ, choral conducting); since the age of 17 as a keyboardist, pianist, composer for various bands and instrumentation (solo to big band) in various styles from jazz to hard rock act and chamber music/classical music duo project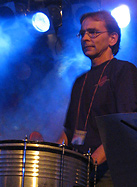 Erwin Vindl - Surdo, Buk, Jing

member of Comin & Goin since 2003
born in Innsbruck (Austria) in 1959 - studied Brazilian and Cuban percussion with Ingrid Wild (A); took courses in Brazilian Percussion with Gilson de Assis(Brazil) and in traditional Corean Music with Kim Dong-Won (SamulNori, Seoul, Republic of Korea); plays the surdo for the samba group "mais uma"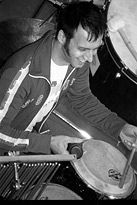 Andreas Schiffer - Cajon, Guengari, Percussions

member of Comin & Goin since 2008
born in Innsbruck (Austria) in 1967 - studies drums and jazz, since 2000 also theory of composition; courses at Nebojsa Zivkovic, Ruud Wiener, Kim Plainfield, Joey Baron, Günther Zechberger; teaching music since 1989; holds workshops for percussions and rhythm; set to music of radio plays as composer and musician; many theatre, radio- and CD productions