The Sound of Comin & Goin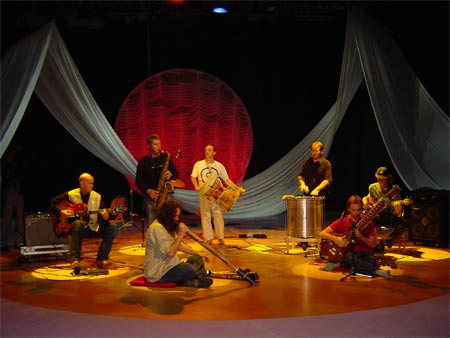 Meditative, exciting and full of fantasy is the music of Comin & Goin, a wide and expansive sound spectrum for body, spirit and soul.
Just as the instruments which come from all over the world so too are the artistic roots of the seven musicians deeply anchored in many styles and generations: traditional Asiatic, Latin American and African percussion together with the groove of the didgeridoo; electronic sounds (e. g. created by the EWI = Electric Wind Instrument) get to know the tonal sensations of the sitar and elements/instruments of jazz music.
The resulting harmonic-dynamic sound compositions, which the musicians have developed since the foundation of the band in 1996, has made it possible to tell new, colourful musical stories which are profoundly touching, holistic and openminded in the best possible way..
"Next is now, world music as the single most potent force in the culture of fusion ...
World music-makers are like shamans, carrying us on magic carpets of riffs and melodies through states of consciousness that spin us out of time to lands not yet invented but glimpsed on the aural horizon ...
And so we see that music brings us, in the jumping of our cells, from what is past to what is trying to become the future. It expresses and fulfills our need to hear the spirit in the dark."
Jean Houston in "Jump Time" (Sentient Publ. 2004)