Guests/Projects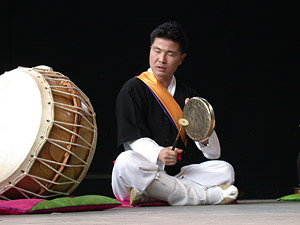 Kim Dong-Won (Südkorea) - Traditionelle Koreanische Percussion und Gesang

Born in 1965 in Busan (Republic of Korea); in 1986 he began his study of traditional Korean percussive music, the drum techniques used to accompany "pansori" (traditional story singing) and "samul nori" (traditional percussion ensemble) from many great masters;.
has been working on research and education area of Korean traditional music and has an active career as a performing artist also; has taught at many Universities in Korea and at "Musikakademie" of Basel (Switzerland) since 1994;
as a member of Silk Road Ensemble (founded by Yo-Yo Ma), he shared his unique musical energy with the audiences in Europe and United States;
additionally, he wrote not only many music books but also created several fairy tale books which inspires children into the world of Korean tradition; became recently a major professor at The Wonkwang Digital University to teach Korean traditional music through Internet.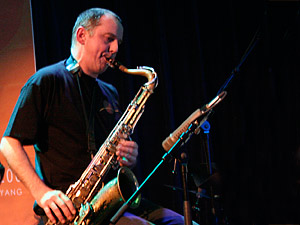 Florian Bramböck - Saxophone

Born in Innsbruck (Austria) in 1959; education at the Konservatorium Innsbruck, at the University of Music and Arts in Graz from 1980 - 1985 and at the University of Miami in 1987;
classisc Diploma in 1984, Jazzdiploma in 1985 - for Saxophon;
teacher at the Tiroler Landeskonservatorium since 1984, teacher at the Brucknerkonservatorium Linz since 1993;
several honours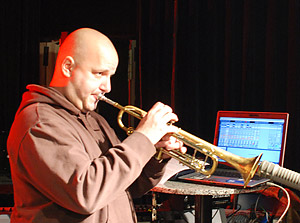 Martin Ohrwalder - Trumpet

Studied at the Conservatory of the city of Vienna Jazz-Trumpet at Prof. Robert Politzer;
plays and played in several well-known Austrian ensembles;
composer for several orchestras and bands.
In his own projects, taking the combination of acoustic and electronic music is becoming increasingly important one - the electronic sound production is just as much as playing the trumpet improvising used to always spontaneously interact with fellow musicians in the interaction.
In addition to his teaching in the Tyrolean Music School, since 2005, he is teaching at the Leopold-Franzens-Universität Innsbruck for the Jazz Big Band.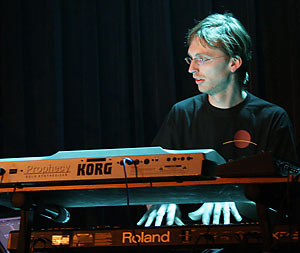 Michael Hornek - Keyboard

Studied piano at the MS Absam and at the Konservatorium Innsbruck at C.F.Journes, Gösta Müller and Stephan Costa(Jazz-Piano). Studied drums at the Konservatorium Innsbruck at Norbert Rabanser and Wolf Dieter Köhler and at the Konservatorium Linz Bei Dejan Pecenco.
Winner of numerous awards, including ' Hans Koller N. Y. scholarship.
Numerous concerts and tours with YO-IZ, M.P.Weinberger, Lucy in the sky, Ritva, Nouvelle Cousine, Bumi Fian, Pro Brass, Maria Bill.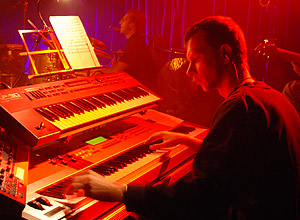 Robert Sölkner - Keyboard

Born in Innsbruck (Austria) in 1967;
studied Jazz-piano at the Konservatorium Innsbruck and at the Brucknerkonservatorium Linz; musical experience was also in Cuba and in New York;
played with numerous musicans from Austria, USA, Middlel- and South-America: Florian Bramböck, Milagros Piñera, Christian Maurer, Hubert Tubbs, Jeni Williams, Andy McKee, Heinrich von Kalnein (D), Martin Ohrwalder, Axel Mayer, Martin Harms (D), Gerwin Eisenhauer (D), Enrique Torres, Johannes Sigl, Martin Nitsch, Mayra León, Andy Mayerl, Ricardo Hernandez, Paul Tolloy...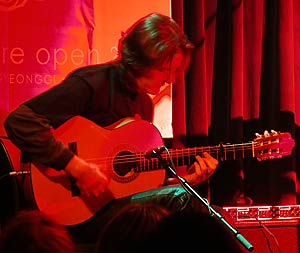 Dietmar Rumpold - Flamencoguitar

studied guitar at the Konservatorium Innsbruck, in Sevilla and Jerez de la Frontera (Spain).
1990 -1997 guitatr player at "Peña Flamenca Salvador Periañez", Concil de la Frontera, musical consultant of the "Coro Flamenco.
Leader of the Flamencogroups "Alcalá" (1980 -1985), "Aljibe" (1994), "Azahar" (1996), "Al Alba" (2000) and "Alcalá" (2001).
Since 1988 Mitglied of "Latin Guitar Connection" (José Teran).
Numerous performances as a soloist as well as accompanying guitarist in flamenco dance and -singing-.
Flamenco guitar workshops in Austria, Germany, Italy and Spain.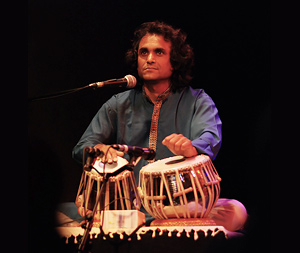 Debashish Brahmachari - Tabla

Born in India in 1968; currently living in France
Appears regularly on radio and in India with many renowned masters.
Producer of Film Music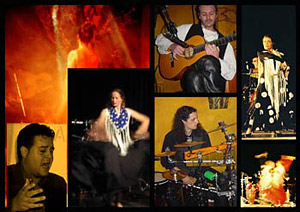 Alcalá (Austria/Bulgaria/Spain) - Flamenco Live

Alcalá are:
Tanja Stekl - Dance
Selina Stekl - Dance
Alexander Kunchev - Percussion
Dietmar Rumpold - Guitar
Juan Manuel Munoz - Voice
Carmen Amor - Voice
Alcalá emerged from a meeting of artists, who have set their heart upon flamenco for years. Starting with the various styles of traditional flamenco music the group brings in their individual interpretation of that music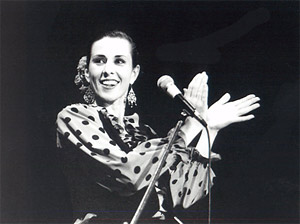 Carmen Gonzales Amor (Spain) - Voice

Carmen Gonzalez Amor was born in Sevilla (Spain), where she made her first experiences in Flamenco singing.
For years she has been working with many different Flamenco groups in Spain and other countries, especially in Italy, where she has her own group.
Beside her cooporation with dance companies she is also performing as a solo-singer, especially in Spain in Peñas Flamencas (Flamenco-Clubs), theatres and at festivals.
In 1999 she was qualified for the final of the famous Concurso de Cante Jondo Antonio Mairena in Mairena del Alcor (Sevilla/Spain) for rhythmical singing and won in the same year the first prize of the Concurso de Cante por Alegrías de Cádiz in Cádiz/Spain. In August 2001 she won the 2nd prize at the Concurso Nacional de Tarantas de Linares (Spain).
Beside performing as a singer she is dedicated to studies of different Flamenco styles and gives workshops and conferences on this topic.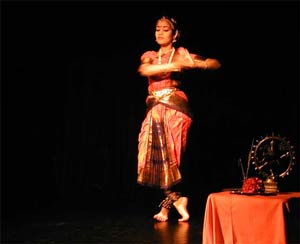 Asmita Banerjee (Indien) - Indischer Tanz

Born in Kolkata (India) in 1972;
1993-1996 training in classical Ballet at the University Sports Institute of Vienna; 1995-1997 several study trips to Shantiniketan (West Bengal) for Manipuri Dance training with Jatindra Singh; since 1996 classical South Indian Dance with Radha Anjali, 2002 Arangetram (solo-debut, completion of the basic dance training) in Vienna at the Interkulttheater;
since 1998 member of the Natya Mandir Dance Company; 1998, 1999 and 2002 educational trips for several weeks to Chennai (South India) at the Bharata Choodamani Academy with Adyar K. Lakshman; performances since 1998 in Austria, Hungary, Slovenia, Italy, India.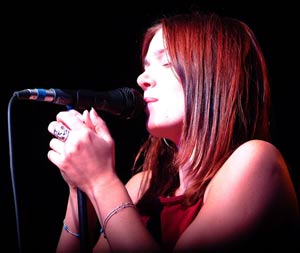 Zabine Kapfinger - Stimme

Born in the Tyrol (Austria) in 1974; grew up with yodelling, a typical Alpine style of singing;
from 1992-94 singer of the Austrian group "Hubert von Goisern & Die Alpinkatzen";
several tours to U.S.A., Mongolia and Africa;
winner of the Austrian "Amadeus Award 2002" as "Best Female Solo-Artist" and "Best Female Newcomer National".