Former band members of Comin & Goin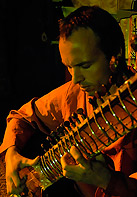 Klaus Falschlunger - Sitar

member of Comin & Goin from 1996 - 2009
born in Innsbruck (Austria) in 1969 - studies the sitar in Delhi and Benares in India; since 1995 he continues his studies with the sitar and classical Indian music with Daniel Bradley in Vienna; besides his first solo album 'In a sitar way', he is part of the CD production 'Dewa Che' with the female Tibetan singer Dechen Shak-Dagsay; this album is chosen as 'Album of the year 2005' by the American magazine 'Spirituality & Health'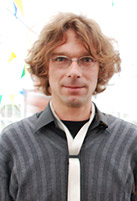 Thomas Zwerger - Soprano and alto saxophone, EWI, Flute

member of Comin & Goin from 1996 - 1997
born in Innsbruck (Austria) in 1968 - lives in Berlin (Germany); studies at the Conservatory in Innsbruck and at the ACM in Zürich (Switzerland); plays the saxophone in numerous bands in Austria and Germany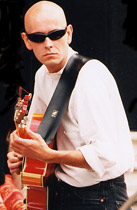 Bernhard Kowatsch - Guitar, Synthesizer

member of Comin & Goin from 1996 - 2005
born in Innsbruck(Austria) in 1968 - studies classic guitar with Peter Heiss Peter at the Music School in Innsbruck; music influences: beside Jazz especially Classic Indian Music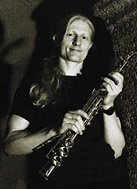 Andreas Hackl - Saxophone

member of Comin & Goin from 1997 - 2001
born in Zams (Austria) in 1970 - studies the saxophone at the Conservatory in Innsbruck in jazz and popular and at the Academy for Music in Munich; from November 1997 until his death saxophone player and composer at Comin & Goin
With Andreas Hackl we do not only lose an outstanding saxophone player, but also a sensitive musician colleague, who has contributed to the further development of our music style decisively. It remains the memory of four years of making music and working together. His musical "spirit" will survive in his compositions. Too bad that he was not allowed to experience the appearance of the new CD "Snowflakes in June" in which he has played a part as saxophone player and composer substantially any more.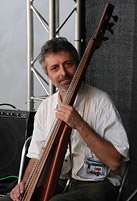 Gösta Müller - Double bass and electric bass

bei Comin & Goin von 1997 - 2002
born in Innsbruck (Austria) in 1956 - studies the piano and the double-bass at the Conservatory in Innsbruck (Czernohaus, Sorg), Jazz-bass at the Franz-Schubert-Konservatorium in Vienna (Harry Putz), conducting training at the Tiroler Landeskonservatorium (Seipenbusch); private studies and master classes at the Musikhochschule München, Jazzhochschule Graz etc.; numerous concerts as a pianist, harpsichordist and jazz bassist in Austria, Germany, Italy, Luxembourg, Canada; radio productions for ORF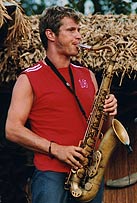 Paul Heis - Soprano and alto saxophone, EWI, Flute, Bodhran

member of Comin & Goin from 2001 - 2005
born in Oberperfuß (Austria) in 1969 - studies the saxophone at the Conservatory in Innsbruck in jazz and popular music; after musical studies at the Brucknerkonservatorium in Linz (Austria) he widened his musical horizons through various workshops and courses with Bob Mintzer, Peter Herbert, Eric Marienthal, J. M. Londeix, Vinko Globokar, Harry Sokal and others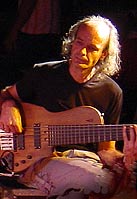 Gerald Rumpold - Six-String- and Fretless-Bass

member of Comin & Goin from 2002 - 2008
born in lnnsbruck (Austria) in 1961 - studies the bass at the BSM Munich/Germany (Horst Polland), BIT - Los Angeles/USA, City College of New York/USA (Peter Mathews, Ron Carter); live: David Gilmor (USA), Dan Carillo (USA), Jamey Haddad (USA), Rodney Holmes (USA), Max Kinker (Germany), Alex Deutsch (A/USA), Franz Hackl (A/USA), John Clark (USA), Jojo Mayer (USA), Hermann Delago (A) a.s.o.; scholarship from the Federal Ministry of Science, Research & Art; "Israel E. Drabkin Memorial Award" for "Most Promising Music Mayor" (New York/USA); in Top-40-, Jazz- u. Latin bands like Alcala, Una Mas, José Teran, Menage, Heavy Mental, Confusion, The Thing On The Doorstep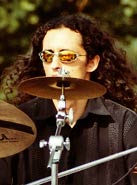 Sani Kunchev - Cajón, Udu, Percussion

member of Comin & Goin from 2005 - 2007
born in Sofia (Bulgaria) in 1978 - studies at the Conservatory in Innsbruck; since 1998 IGP-Studium; several prices at competitions in Bulgaria. Since 2000 teaching at the music schools in Kitzbühel, Seefeld and Wattens; member of "Los Coronas", "Semino Rossi Band", "Landeskonservatorium Bigband", ""Big Band Tirol" , "Latin Guitar Connection", "Alcalá", etc.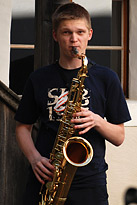 Chris Lamm - Soprano and alto saxophone

member of Comin & Goin from 2008 - 2010
born in Wörgl (Austria) 1988 - studies at the LMS Wörgl and at the Musikgymnasium Innsbruck; studies in jazz at the Conservatory in Innsbruck; winner of the Marianne-Mendt-Jazz-Nachwuchsförderpreis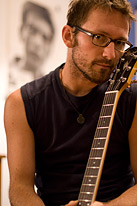 Nico Binder - Acoustic and electric guitar

member of Comin & Goin 2009
born in Weilheim i. O. (Germany) in 1972 - after training in classical guitar turning to pop, rock, folk and jazz; participation in various bands, plays several instruments, including piano, bass, drums, harmonica, jaw harp